Club Evening; 20 May 2015
Report By: John Smart
Photos: Ross Johnson
Dave spoke about the word Tartle.
'Tartle' is a word derived from the Scottish Language which means "The act of hesitating while introducing someone because you've forgotten their name." Todays item refers to an item used by Cooks & Bakers it assists in pushing pastry into pie trays.
Supplies; Start with a block 130mm long & 65mm square. Straight grained wood which will withstand frequent washing is recommended.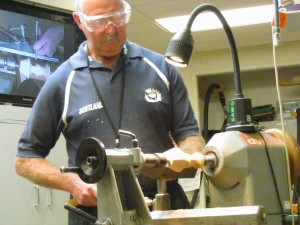 In Projects on our web page you will find a full article under Tartle it has the various measurements which if you make one of these to get "Brownie Points" you need to check which baking trays  are stored in the cupboard as there is a bit of confusion regarding the diameter at the base & top of the tray plus ensure the depth is taken into account.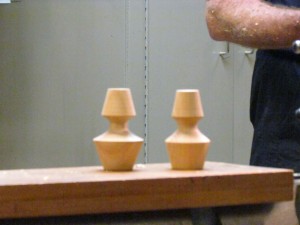 As this effort was as a fill in along with our AGM Dave did a job that got our members all looking. Plus his talks about the lathe he has at home and his system he uses for sharpening his tools I expect we will see quite a few of our members trying it out.