Club Meeting: 23 September 2015
Report by Colin Wise
A set of plans is available here
Richard set the piece of wood in the lathe between steb centres, setting speed to around 2000 rpm. Turn to a rough round with a roughing gouge then explained that Warwick did it this way, Dick action went something like this, Phred will use a skew like this, while Terry winds up the speed and with the roughing gouge fires chips everywhere, Terry to a T.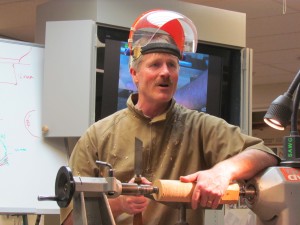 Richard went on to make quite a respectable shape with the 2 centre piece. Then went on to one he had started at home, which has 3 centres, giving a twist effect. Showing 1 to 2, 2 to 3 and 3 to 1 then said it was easier to colour the centers, red, green and black and do it red to red, black to black…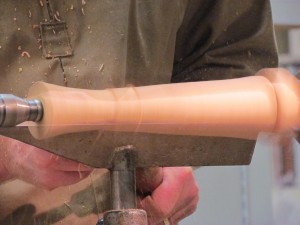 He turned it using a roughing gouge and the the skew, with a slight whoopsy. Finishing it off with a bowl gouge, making it a very interesting evening.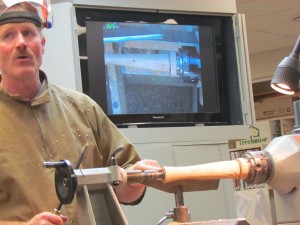 Well done Richard.