Club Meeting: 31 August 2022
Report by: Kieran FitzGerald
Denise was keen to demo something that members may not have seen before, and it occurred to her that in her time at the club she had not seen a live edge lidded box. In keeping with the term theme of "natural", Denise applied her creativity to turning a box with a live edge rim and a matching live edge lid.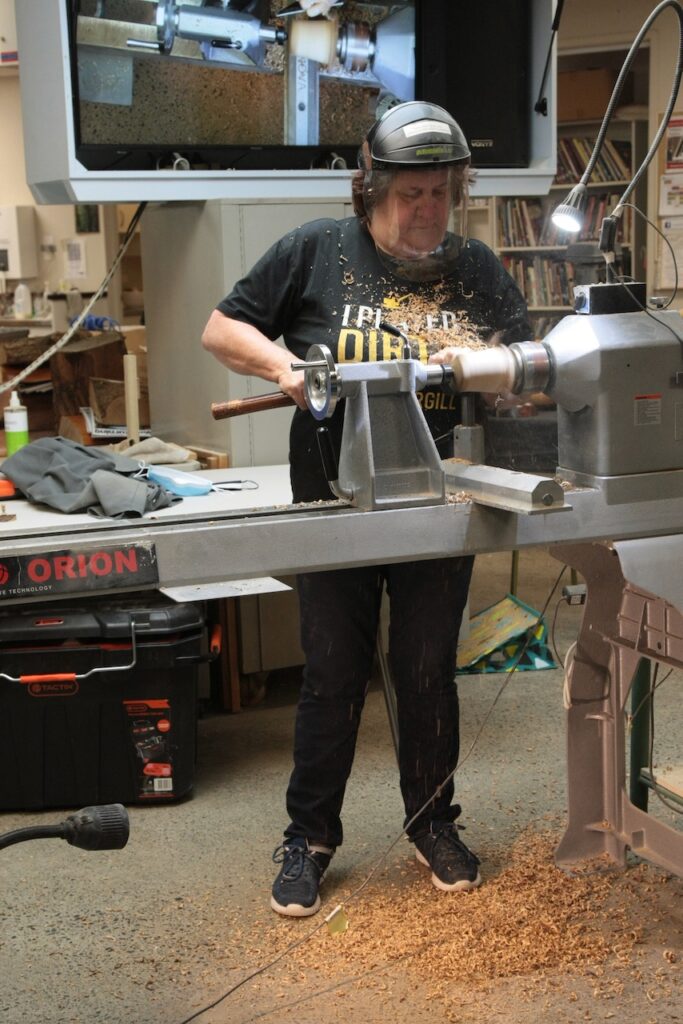 Although lidded boxes may be turned cross grain (the butterfly boxes club members turn for the Beads of Courage Programme are often cross grain turnings), frequently lidded boxes are end grain, especially if they are of a smaller size. In this demo, the turning is cross grain. Denise took a small length of branch, approx. 130 x 90, and with a hole drilled in the side for the screw chuck, mounted it longways on the lathe. She turned a tapered curve to form the outside edge of her box. Next, at the tailstock end, she formed a spigot. The bark was cut off the bottom in this process. Turning it around, it was remounted in the chuck.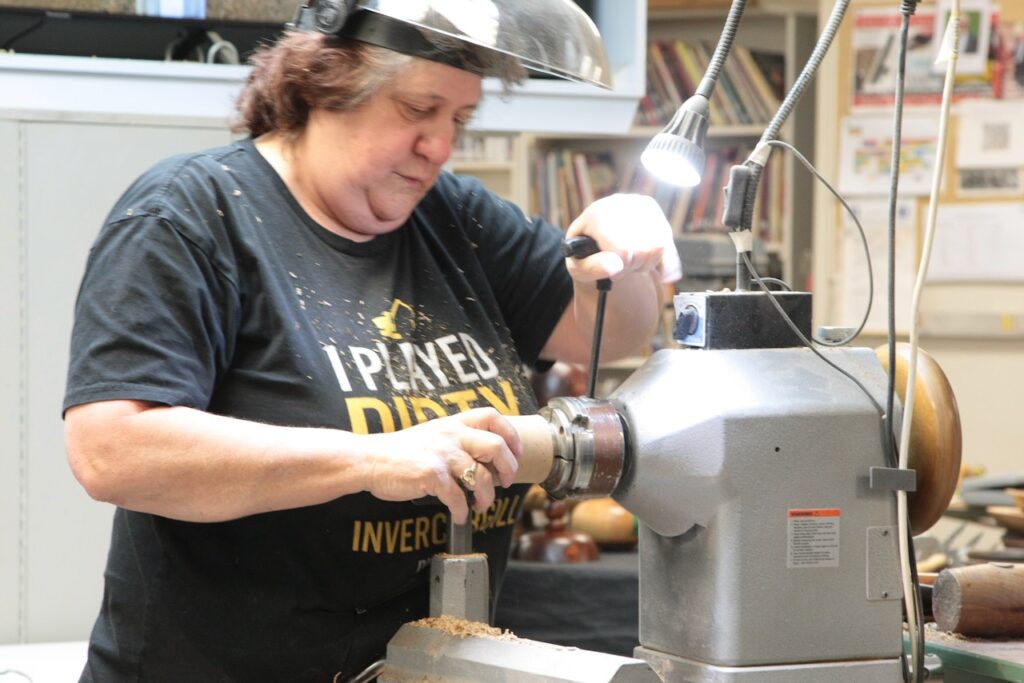 With a bowl gouge, Denise commenced to hollow out the box. Initially she formed a 6 – 8mm recess for the lid to sit in, and then she used a square edge scraper to hollow the remainder of the box.
The key element to a successful live edge box is having the lid match the box. This means carefully choosing your box blank and your lid blank from the same branch in such a way that the curve and appearance of the lid will be symmetrical with the top profile of the box. Denise took a longways slice of the branch she had selected for the lid, and as she had with the box, attached it to the lathe with a screw chuck. Measuring the depth and diameter from the box, she turned a lid to these dimensions. Removing the piece from the lathe and fitting a handle or finial in the hole made for the screw chuck will complete the piece.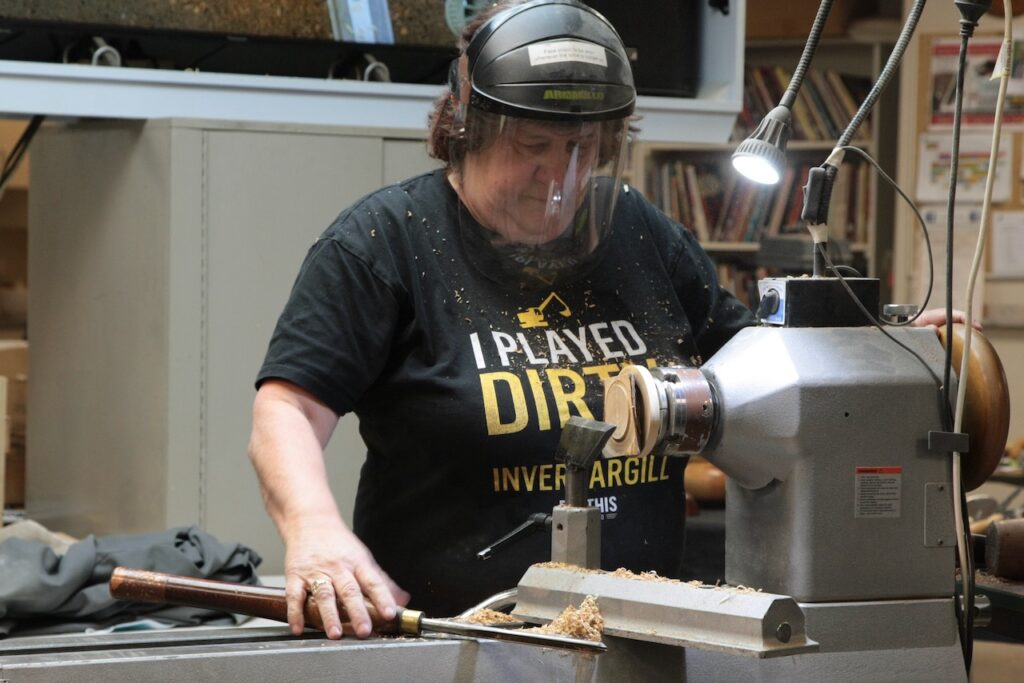 During her practice for the demo, a split formed in a lid Denise turned from a wet branch. She shared a tip – if you wet the piece and clamp it, the split will close. Not perfect perhaps, but nevertheless useful in some circumstances.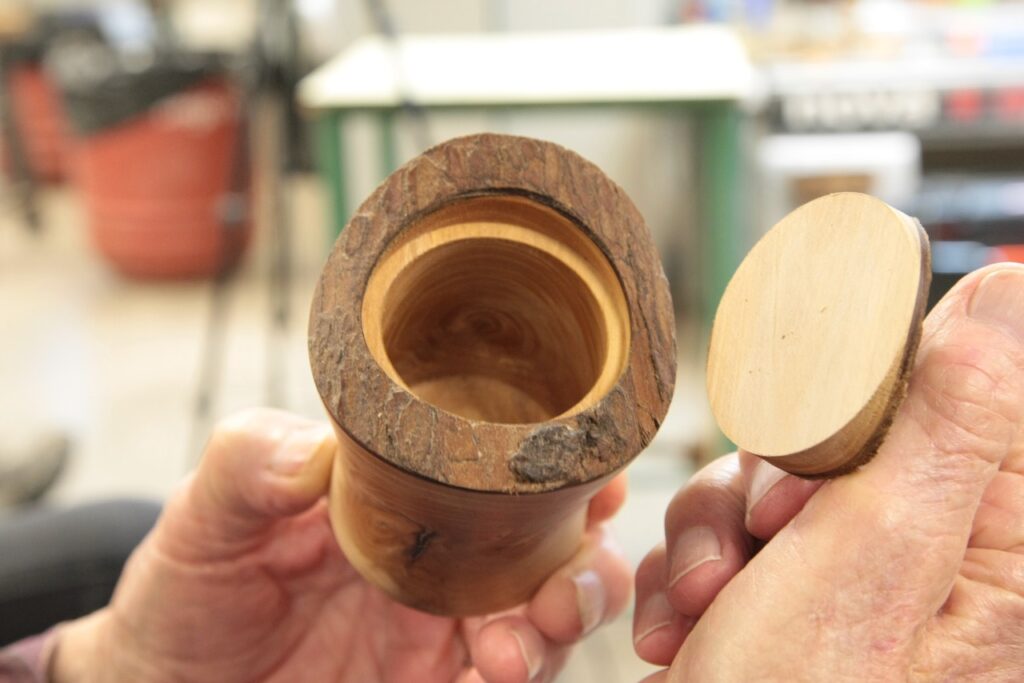 Denise also demonstrated an alternative lid for the same box, but in this case the lid was turned with an end grain aspect, and incorporated a one piece finial.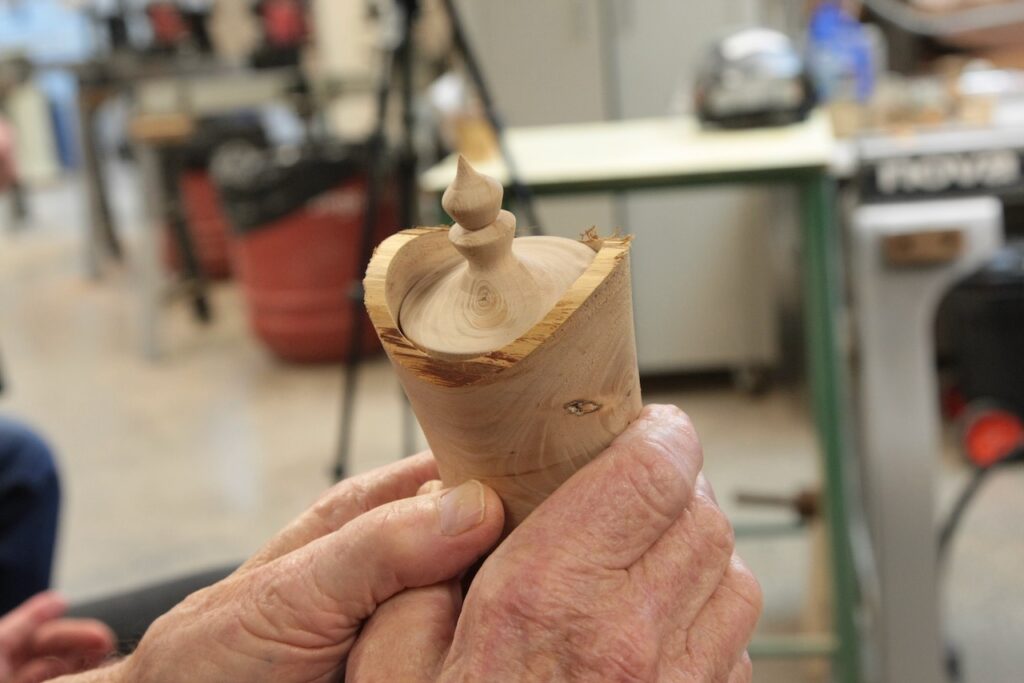 Thanks to Denise for an innovative and entertaining demo. It will be interesting to see how many live edge lidded boxes are on the show and tell table next week.