Club Meeting: 15 Feb 2023
Reportby: Graeme Mackay
Taking a cube of recycled Kauri timber from Whitianga house, Kieran walks the audience through stages with illustration of each waypoint. And the associated hiccups.
Starting from the basics, and following the SAWG project sheet, Kieran moved through the traditional methods for an emerging bowl. Part of this process is a measuring exercise. Possibly a key point; the need to working off the initial first diameter (as per the project sheet).
Measurement decision . Kieran brought home the point with good humour and illustrated the need to follow the safety practices and processes at all times.
Emerging bowls is a procedural exercise, fully outlined in the SAWG project sheet, and gives a good starting exercise. There were many audience opinions and discussions, especially about the freehand method. A number of good quips were handled around as Kieran talked about the weaknesses and barriers affecting this project. Inserted illustration and humour provided a view about using the freehand type of approach.
Spheres are part of this exercise, Kieran highlighting the use of templates and talking about the number of approaches that can be used in this part of the exercise, plus, a wave of opinion from the audience.
The process provided a good example of the use hot melt glue for fixing in the final part of the sphere project. Again, accuracy and measurements, or should one say, mis-measurements show up in the later stages of this emerging bowl project.
The finishing options are varied and part of standard process. Kieran gave quick illustration of using lathe based sanding discs into the final melee.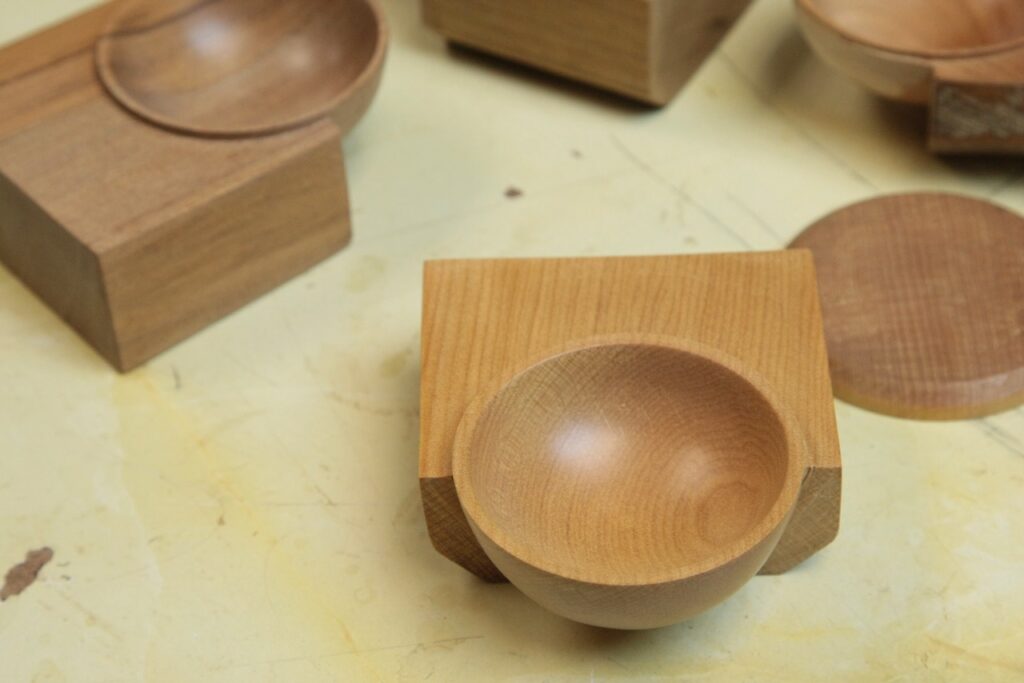 The crowd were given their money's worth and with expression gave their opinions.
Well presented standard process and a humorous way of getting through a traditional exercise dominated by measurement.