Gordon Ramsey Pembridge Demonstration
11 March 2015
Report by Richard Johnstone
What can one write about after a talk from Gordon. It was interesting, informative and inspiring.  There were the usual comical interactions between Terry and Gordon, but these all helped to add colour to the evening.
Gordon discussed with us the concepts of Lift, Flow, Form and Function. During the discussion he pointed out that these were all concepts which we struggled to define. Sometimes they are mutually exclusive.
He also discussed with us the "rule of thirds" and the 1 to 1.16 ratio and had photos to illustrate his points.
Elliptical shapes are pleasing to the eye and give good form.
Designing a turning using a series of ellipses will give a good design.
Two elliptical curves intersecting at right angles give the turning good flow.
Form vs function is always a problem. The form can be perfect, but it still needs to have feet in order to be functional. Small feet cause less disruption to the form of the turning. Gordon illustrated his point by discussing "Terry's udders called feet" and showing more pictures.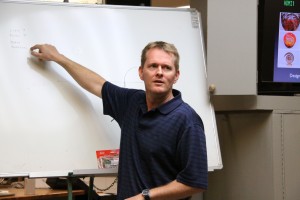 I would need to write a book in order to do justice to this talk. (I will leave that to Gordon) It is suffice to say that it was another great evening of entertainment and information.
Thanks Gordon and also to Bruce for "twisting his arm".
To see Gordon's work (rather than the poor photo here) check out his web site http://gordonpembridge.com/