Club Meeting 1 June 2022
Report by Denise Donovan
On Wednesday 1st of June Kieran Fitzgerald gave an enlightening and thoroughly entertaining talk on Making Tools for your workshop. here were no less than 51 tools in Kieran's collection, all of which had a practical and sometimes ingenious use.
We started off with handles: Handles are a great spindle turning project for new turners and can save them a few dollars by buying unhandled scrapers and gouges etc and making their own. The rules for a tool handle are as follows … for every inch of overhang on gouges there should be 5 inches of handle, and for scrapers and skews 3 inches of handle to 1 inch of overhang.
But handles are not just limited to gouges, you can make them for, Allen keys, collet keys, knock out bars, sawblades, the limits are endless, and Kieran's collection will attest to this. I don't think he had anything without a handle.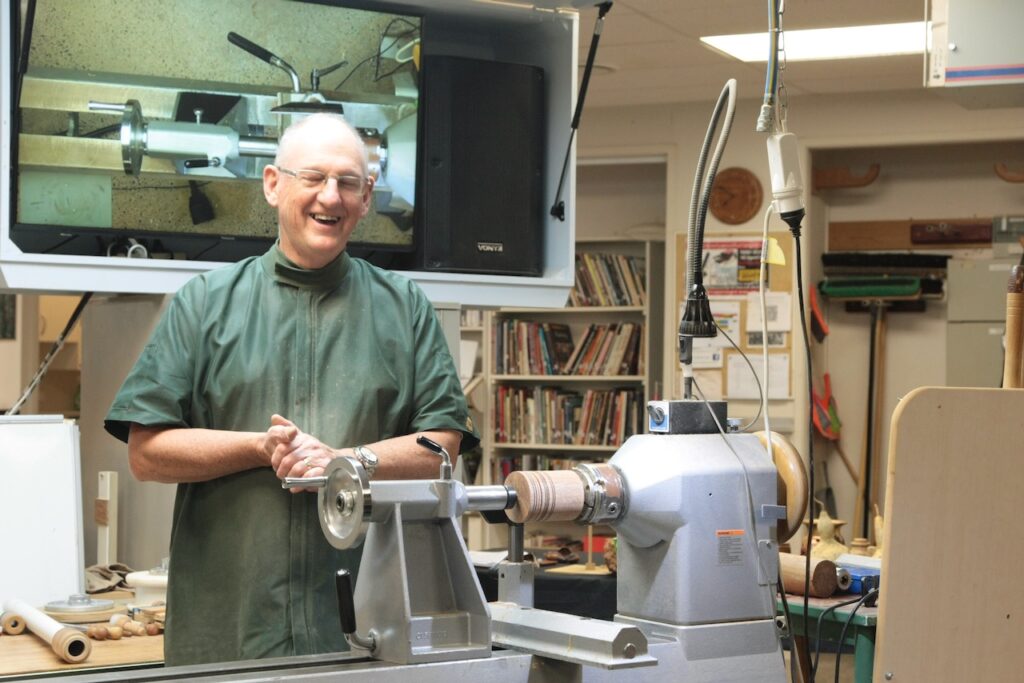 Next up an amazing range of tools fashioned from other tools:
A knockout bar from a wheel brace, with handle of course (I'm not sure what he's going to use when he needs a wheel brace … although I'm sure he'll improvise)
An Awl from a screwdriver blade (new handle of course)
Large screwdriver fashioned into a point tool
Guitar string for a burning wire (again with handles)
A thin parting tool from a hacksaw blade (handled? … yes indeed)
A thin parting tool from an old bone handle dinner knife (guess what … a new handle … you get where this is going don't you …. A handle for everything, and everything with a handle 😊)
A small skew purpose built for turning away tenons on bowls, made from an old screwdriver
Drill with a handle for a depth marker when turning
Handmade chatter tool from a reciprocating blade (for end grain only)
Open ended spanners sharpened for turning consistent diameters
Sanding mandrels from screwdriver bits of engine valves
Amongst the remaining assortment we had the following gems:
Off centre turned mallet head and handles
Dead blow hammer made with lead shot in the head
Bowl depth gauges – screw type and figure 8 type
Home made compass from wood, nail, and pencil
Sanding plate with a spigot mount – for those without a sander
Vacuum coupling assembly
Various pen turning tools such as a reamer from a file, barrel holder, and a pen press
Morse taper with tenon and ball bearing race for hold a piece e against the tailstock
Metal tapered spindle on a shaft to hold a polishing wheel
Spindle turned paper towel holder
Sanding sealer jar lid with paintbrush insert
Drum sander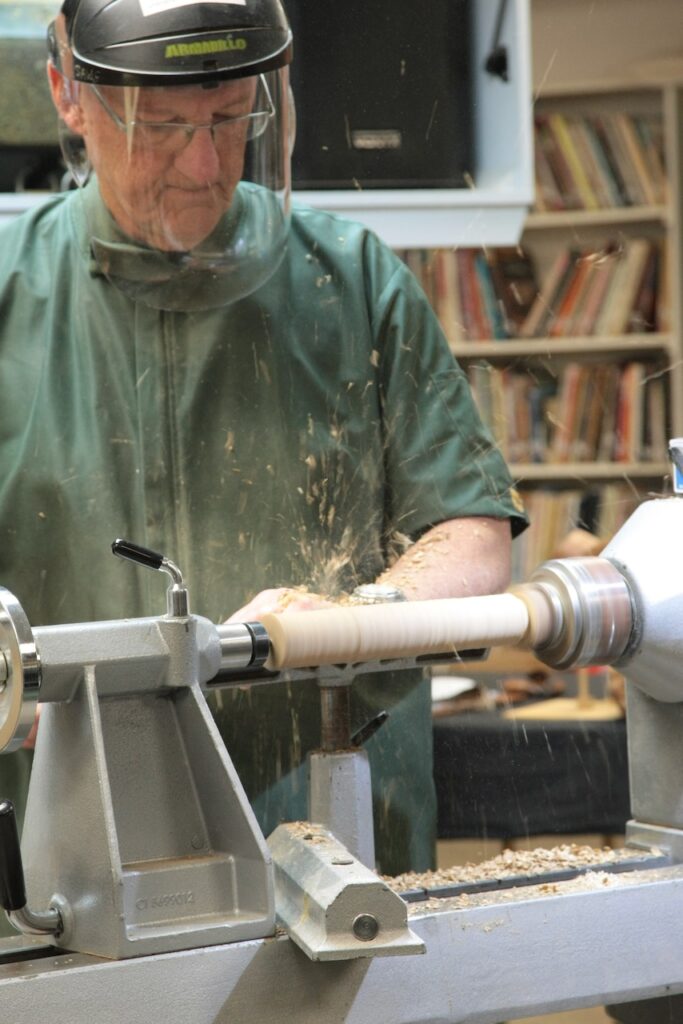 These tools are just some of the ideas you yourself can make and use – some of the projects are also on our website – so let's take inspiration from Kieran's Kiwi Ingenuity and start creating
Thank you, Kieran, for a great talk, and the giveaways to help some newbies start their own handy tool collections.