Wednesday 16th November 2018
Report by: Bruce Wiseman
Our demonstrator, Janet McDonald, treated us to an evening of Creative Embellishment.
Janet is one of our new members, having been Wood turning only 6 months, hence she was not demonstrating turning, but the enhancement of items already turned.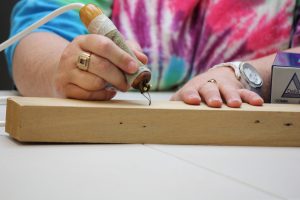 She explained to us that she had been a hairdresser in 1999 and had subsequently written 7 books on Handcraft Art, including Mosaics.
With her craft work she told us she took a lesson out of Terry's book and sold them for double the original asking price.
Out of her "Magic box" (no special wand like Dick,) came a number of decorated bowls and objects, which she had enhanced with paint and pyrography, some of which would have been suitable as Christmas decorations.
We were shown her style and method of Pyrography and the tool she used. The wire tips she made from Nichrome wire, bent so she could use it like a pen to draw or write with.
Patterns were traced onto the wooden object, then the tool used to burn into the wood.
Lunch wrap is ideal as a tracing paper. Use an old fine ball pen (no ink) as a tracing tool to transfer the pattern.
If transferring to a curved surface, scrunch up paper then spread over the item. This helps it to mould without deep creases.
Use designs from all sources, look outside the square.
When burning, relax, use light pressure. Wear Safety Glasses and clean the tip regularly to remove Carbon.
Set up a fan or similar airflow to draw fumes away – do not blow towards your work.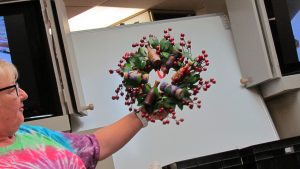 Janet used acrylic paint – test pots from Resene are good. The Metallic range is particularly ideal. Apply two base coats, then other colours as needed to produce the effect required.
Janet also showed us some gold and bronze leaf application, (use leaf not vinyl.)
She also demonstrated how to apply the size to where the leaf was to adhere, advising the use of gloves when painting on the size and allow 20 – 30 minutes for it to dry (tacky) before applying the leaf.
Embellishing tools are obtainable from Art Supply shops, E-Bay, or Terry's Emporium.
Craft glue is available from Spotlight.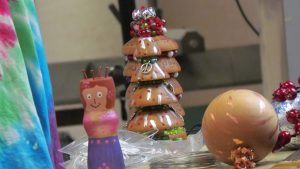 To finish with, a selection of decorated bowls, Christmas trees and Christmas puddings were passed around.
Thank you Janet for an unusual and interesting evening.