Club Meeting: 26 July 2023
Report by: Kieran FitzGerald
Our club was privileged to host David Dernie as a guest demonstrator tonight. Dave is an accomplished turner who brings with him a lifetime of woodworking experience. Dave started his working career as a cabinet maker, before building for 38 years, and then adopting less physical roles of building inspector and trainer of building inspectors. The fact that Dave is an eloquent and witty speaker contributed to an enjoyable evening.
Dave showed us a finished piece which was to be the principle subject of his demo. This was an emerging bowl with a difference – it was in two pieces. Dave's inspiration came from watching Terry demonstrate a traditional emerging bowl, and Dave was keen to indulge his liking of contrasting wood and at the same time challenge himself to create something a bit different. The result was a bowl in one colour, resting at an angled offset within a different coloured base, and at the same time managing to appear as if it was one piece.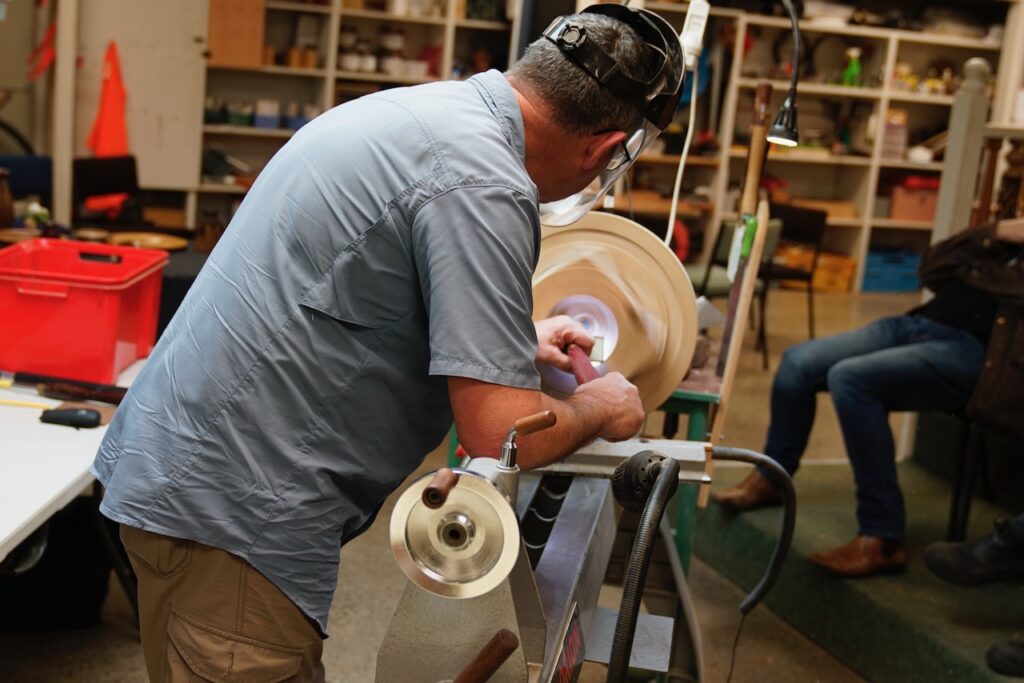 Dave ran us through a PowerPoint presentation which illustrated the various steps in the production of the bowl. The nature of the construction technique lends itself to offering a large range of different designs and looks which can be achieved. To be honest the steps involved in making the piece are too difficult for me to adequately describe in a way which you would be able to follow. Essentially the bowl part was turned first, then the base piece was pre-marked, partially cut on a bandsaw, and screwed to a faceplate. The pencil marks showed how the finished piece was obliquely set within the blank. The blank was turned to exactly accommodate the size of the bowl, and then taken to the bandsaw to cut off the waste wood along the marks. Once cut out and placed flat on the table, the hollowing was not vertical, but tilting outwards. Luckily David has a pdf version of his PowerPoint presentation, and this is included with this report.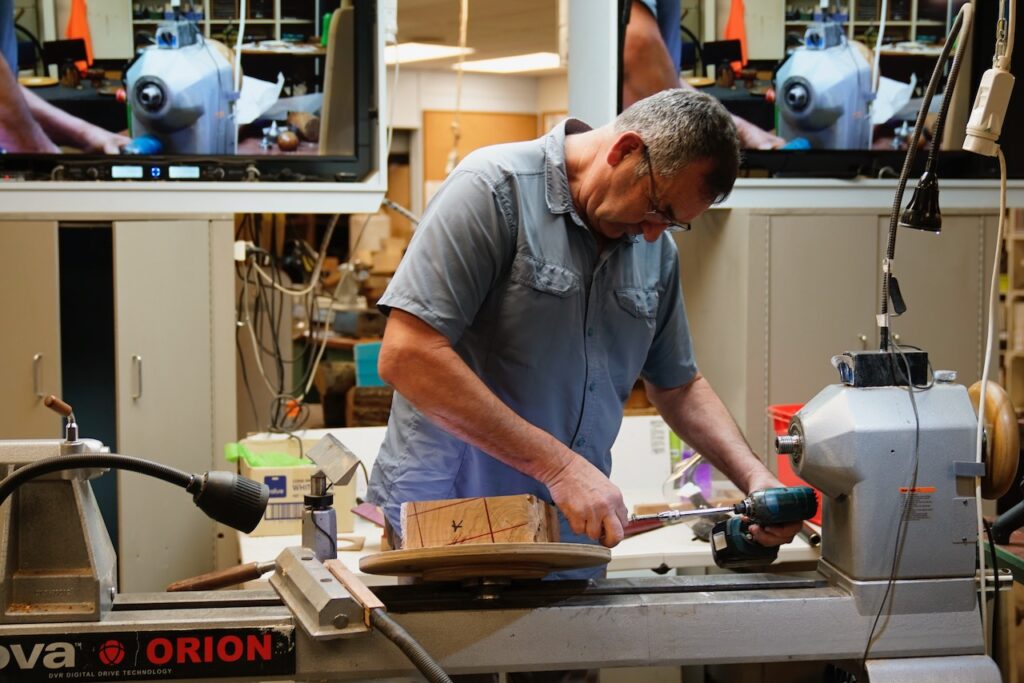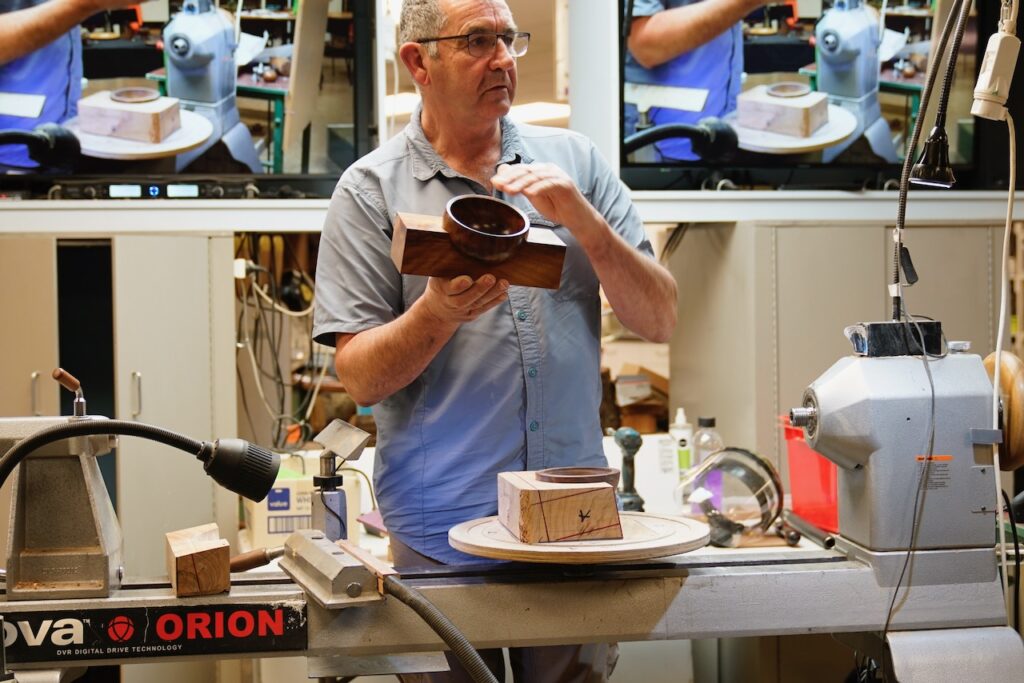 Further points to note are that Dave left a small tenon on the base of his bowl which aligned with a recess in the base, and served to keep the piece in alignment. To hold it together he also put magnets in each piece. Dave observed that timber with no grain direction, such as a burl, was best for this type of work. Unlike the traditional emerging bowl, it is not strictly essential that the bowl is spherical. Dave ensured his bowl fitted the base by chalking the hollow in the base, rotating the bowl in it, and observing the touch points, which he could then turn off.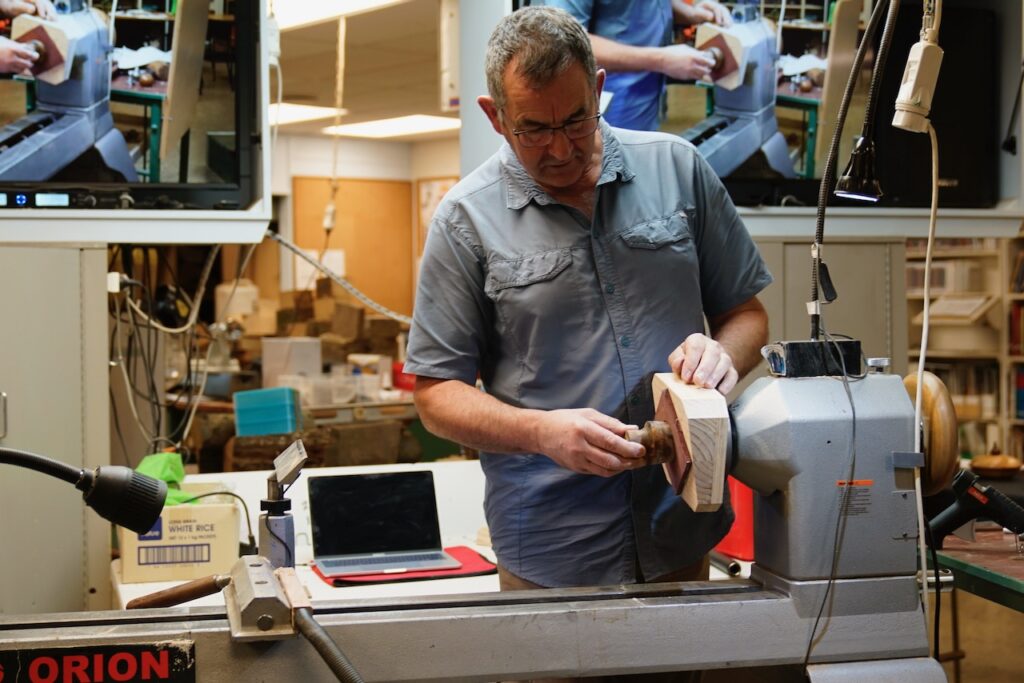 To cap off his demonstration, Dave showed us how to turn another project using the same principles as his emerging bowl. This consisted of a small bowl set on a base at an angle, and with a Saturn-like ring. In Dave's case, though, it was not a ring but a square, cut with end grain on all four sides. What makes this interesting, is that the hole in the ring, or square, has to match the angle of the bowl, and therefore is not a straight edged hole, but an ellipse. To achieve this and get an exact fit involves making an angled cut through the blank, and fastening the ring (or square) between the two pieces, and then completing the turning.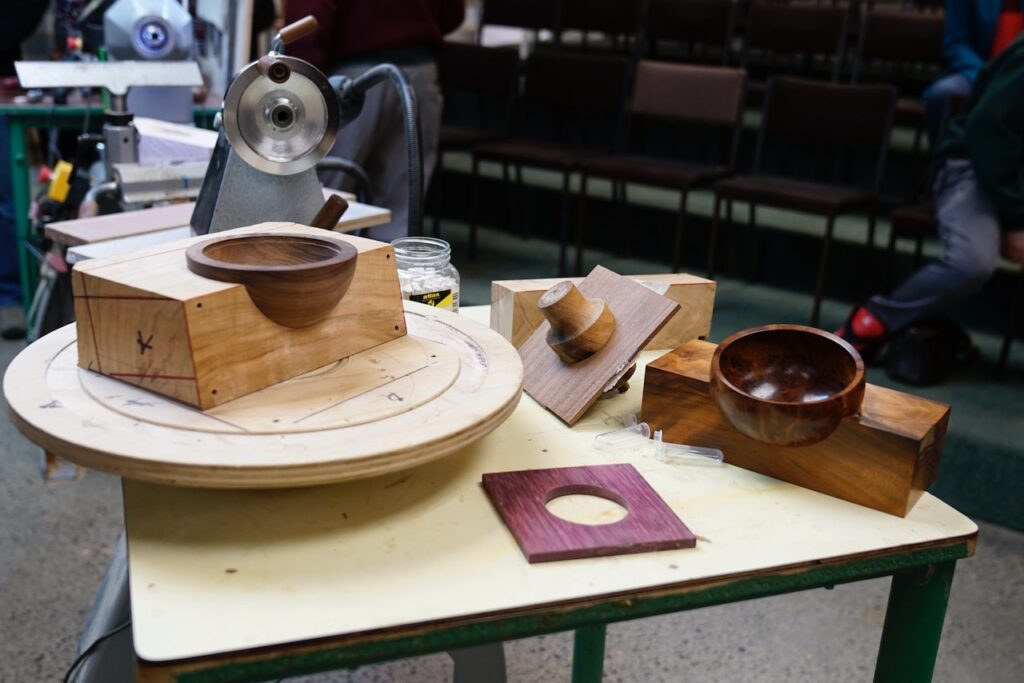 Please forgive me if this report fails to adequately describe the clever work that Dave showed us tonight. From the questions that were being asked I could tell that there was a lot of interest and admiration for these projects. Personally I find it mind boggling how he was able to work out the processes and design the jigs etc to facilitate these stunning works. Thanks very much Dave.