Club Meeting: 26th May 2021
Report by: Graeme Mackay
Bob's demonstration provided another way of making a butterfly box. A whole new direction for lidded box. The original idea was an oval box shape. However it was deemed to be too long for a demo. An interesting alternative put forward, a teardrop box based on Steven Kennard's work; a teardrop shaped lidded box. New Woodturners should note that the process for teardrop boxes can be found in the SAWG online project sheets. They are well laid out and easy to find. (https://sawg.org.nz/sawg/wp-content/uploads/2016/11/Teardrop-Box.pdf)
Bob's initial comment is important: preparation planning and there is clear direction to reviewing the intended product; in this case teardrop shaped lidded box. View of the intended target allows a process to check measurements, and look at the proportions of proposed teardrop ensure the correct amount of wood. As many will know, there is a need to ensure that the process is followed in order to make the required teardrop shape.
The box project provides a good target for checking skills and working on your approach to ordered processes. This project provides lots of avenues and once trialed allow the lots of options.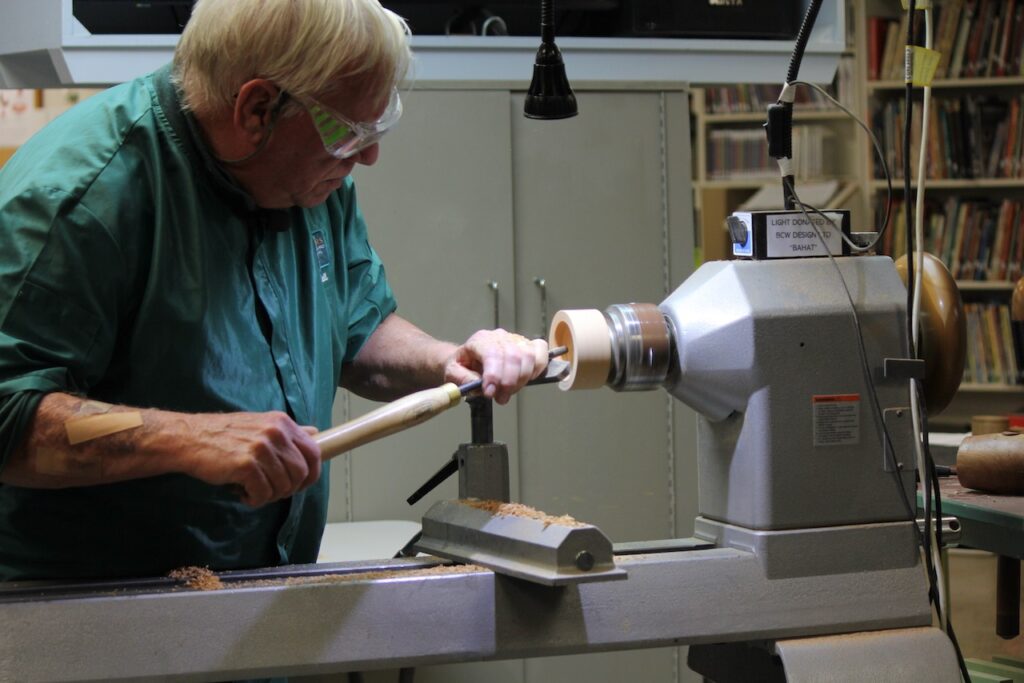 Bob provided quite useful tips for start-ups and beginner Woodturners:
Take time to check out the process required-use the project sheets.
Sharp tools-there is no exception.
Check your safety gear and dust systems-again is no exception.
Measure and check, check the chuck bite requirements and ensure there is wood for the final shape.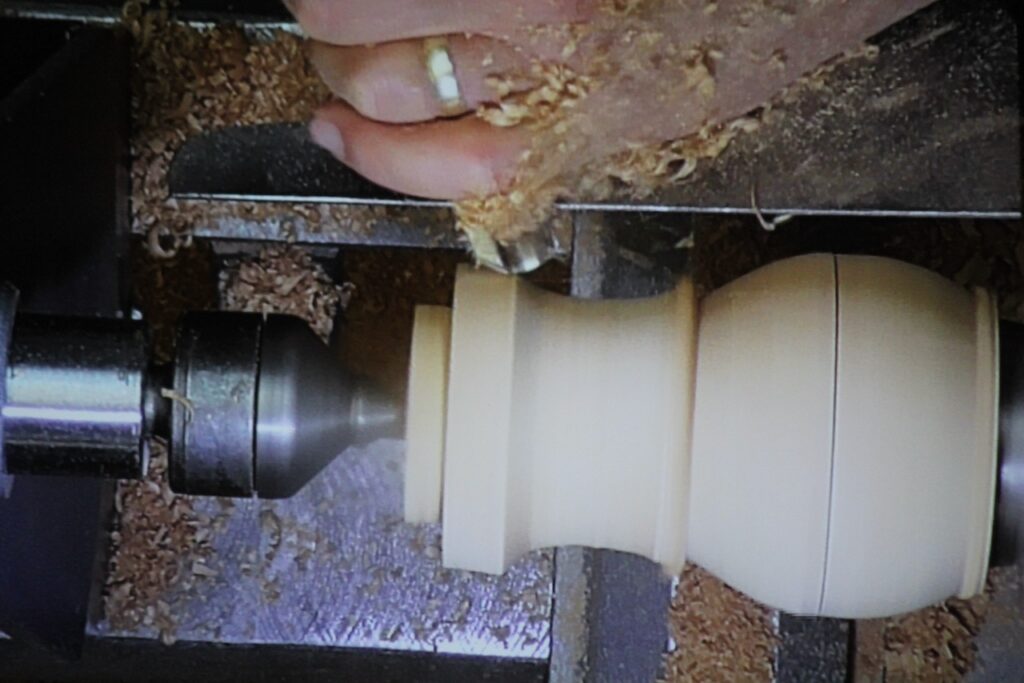 The project requires understanding client requirements. Part of this decision requires deciding on whether to have a pop fit or straight lift off that. This box will be one that is for regular looking and/or quick opening. Bob suggested using the template. A guideline provided will allow for well proportioned curves – in this case visually simple with project complexity on both base and lid.
"Remember, you cannot put the wood back on.".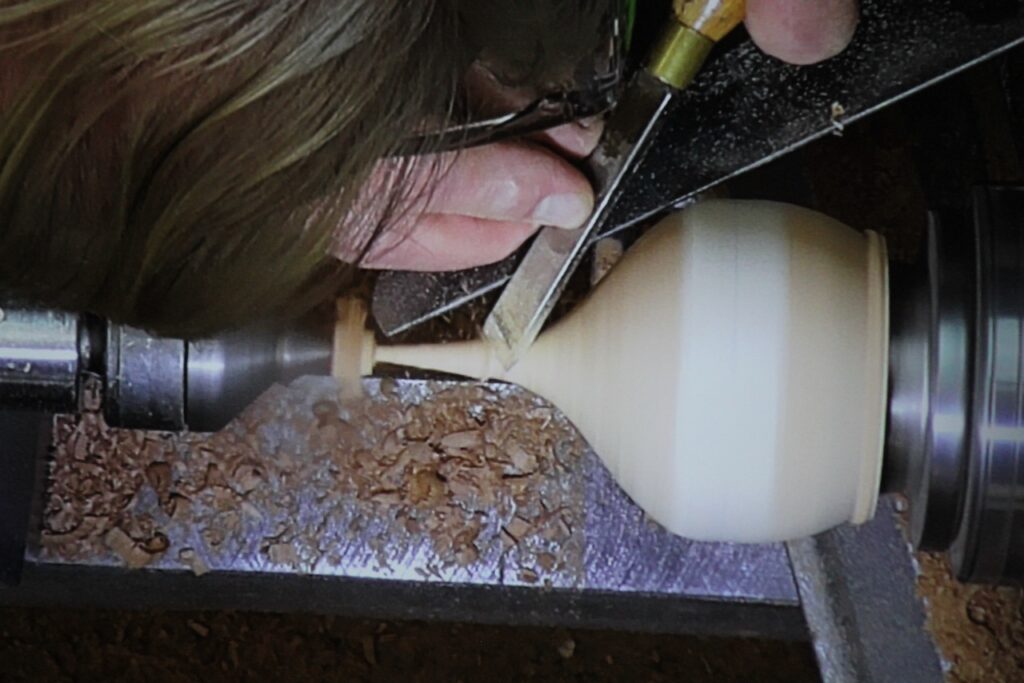 Use of templates implies that you are going to need to follow the processes outlined for this type of box. A part of this special lidded box project is that you are continually checking for measurements that ensure the correct fit and shape. An excellent turning exercise.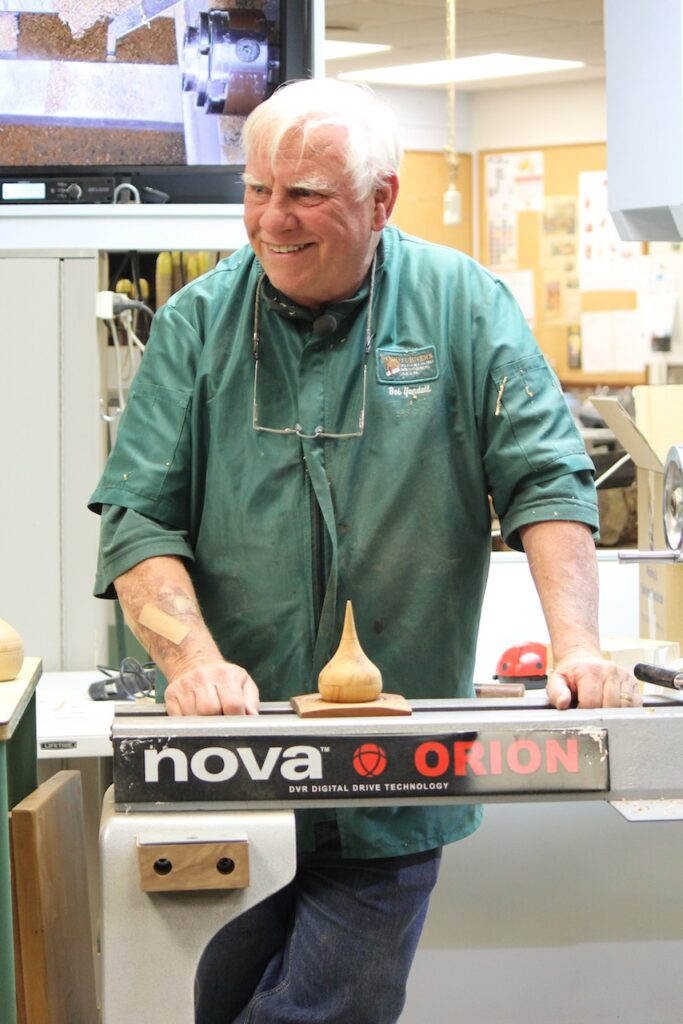 Final tip from Bob:
"start a series, there are many shape options that can be derived from the original project sheet."