Club Meeting: 9 Nov 2017
Report by: Bill Alden
Richard had made a decision to bring 2 pieces of pohutukawa wood 135 X 45 just in case! Do NOT use woods that may be toxic or have a colour that may come off when chewed.
Richard uses a spindle roughing with wings drawn back! And showed us gow he works from middke to edges in order to avoid picking up splinters from the ends
The ends were squared up with the long point of the skew he then checked that there were no cracks or blemishes that would not be turned out. The finished rattle was to be 35mm Diameter and 120mm long.
He then marked where the 3 rings were going to be formed, these marks were parted down in preparation for the 10 mm rings. Space was cleared for the ring tool at each end with the long point of the skew.. He then rounded the tops of each of the rings also with the skew.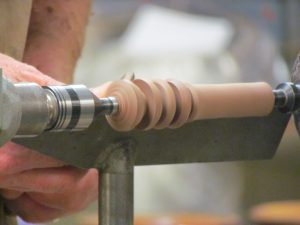 The lathe was slowed to 800 rpm for the use of the ring tool which is used like a scraper , handle high with the tip aiming for the centre to form the ring. The ring was sanded before finally cutting loose. The spindle that the rings came off is cleaned up using a parting tool.
The ends and handle may now be shaped as desired with the skew and sanded. Richard uses Rice Bran oil which is a foodsafe finish as the rattles will go in baby's mouths. Part off and finish the ends with a sanding arbour or by hand.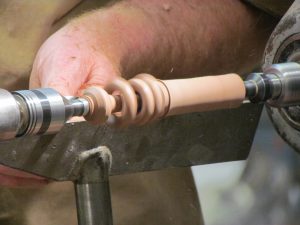 There was some health and safety discussions during the demo and we were warned that if selling these items they had to pass some regulations as to size of parts that may become stuck in baby's throat.