Club Meeting: 7 August 2019
Report by: Bob Yandell
It is always a pleasure to see the master at work as his demonstrations and a great combination of skill and humour. Each step is given with reassuring instruction on technique. Key messages through out were the need for accuracy; sharp tools and slow,steady and cuts without pressure.
The block of Matai was cut perfectly square and opposing sides were marked, using the corner to corner method and a bradawl was used to make a clear and clean location point. The block was mounted cross grain between steb centres to cut a 48mm tenon on one side. There were learnings in cutting the tenon – square to the face, depth such that it is clear of the base if the jaws and a notch where the tenon meets the block. Not the conventional Vee dovetail as these have a tendency to break off.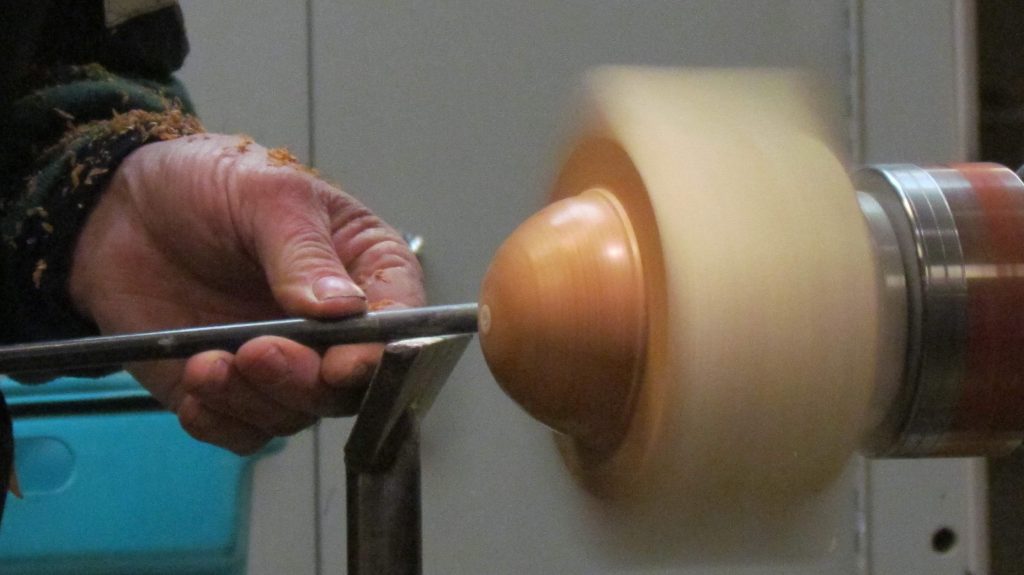 The block was then mounted in the 50mm chuck and the external dimension , 80mm, was scribed on the face and a sphere/bowl was turned to a depth of 40mm with the surfaces from the edge of the outside of the bowl flat and at right angles to the edge. the profile is checked with a prepared template. Sand and finish.
Remove from the chuck and cut the sphere in half along the grain direction. You now have 2 suspended spheres.
Mount on to a wood face plate centring the "bowl" using the tailstock and hotmelt glue in place. Mark the internal and external walls of your bowl. Cut the external wall to a minimal depth to extenuate the suspended bowl and cut out the internal bowl. Sand and finish.
To make the suspension more intriguing. either colour or texture the bowl or the "wall".
Terry suggested that you check out
Hans Weissflog woodturner for more ideas of enhancements to this project