Wednesday 22nd July 2020
Report by: Judith Langley
Janet began the evening by handing around a number of jewellery items and explaining the various threads available on the market for threading beads. Janet typically uses 1mm thread through a 2mm hole. Do not use leather thread for bracelets. A huge variety of bead shapes, sizes, and colours are available at Dave's Emporium in Manukau. Glass, Wood, Plastic are all on offer but it was recommended that glass was preferable over plastic as they look better and it's all about the final look of the bracelet that sells the item.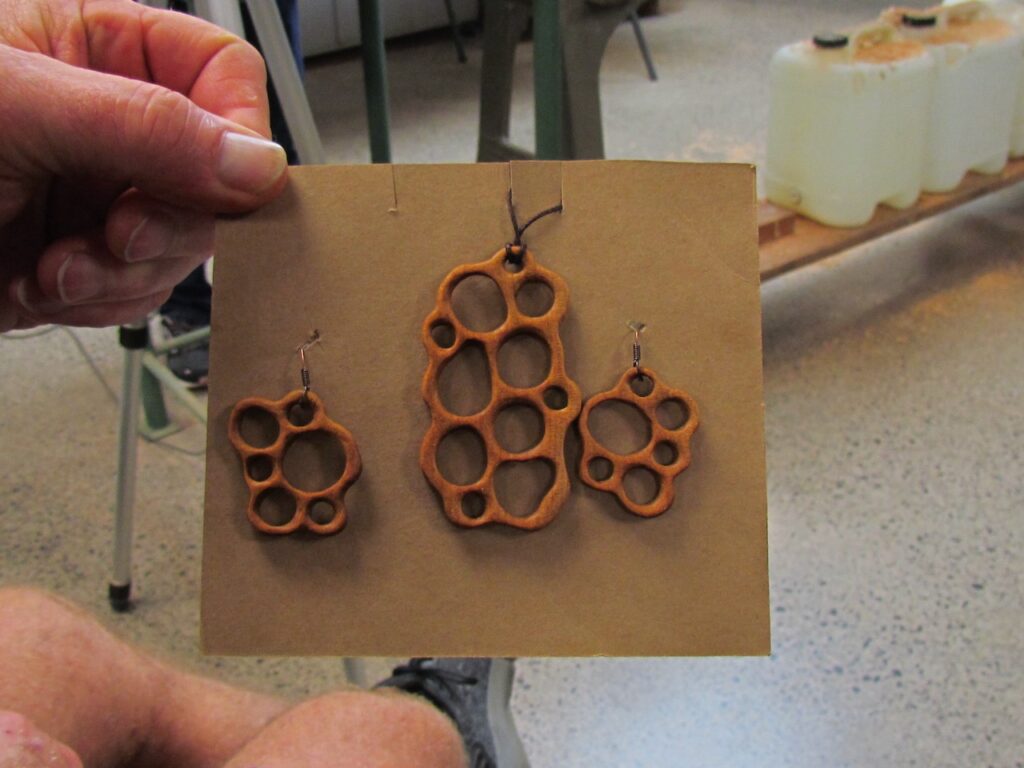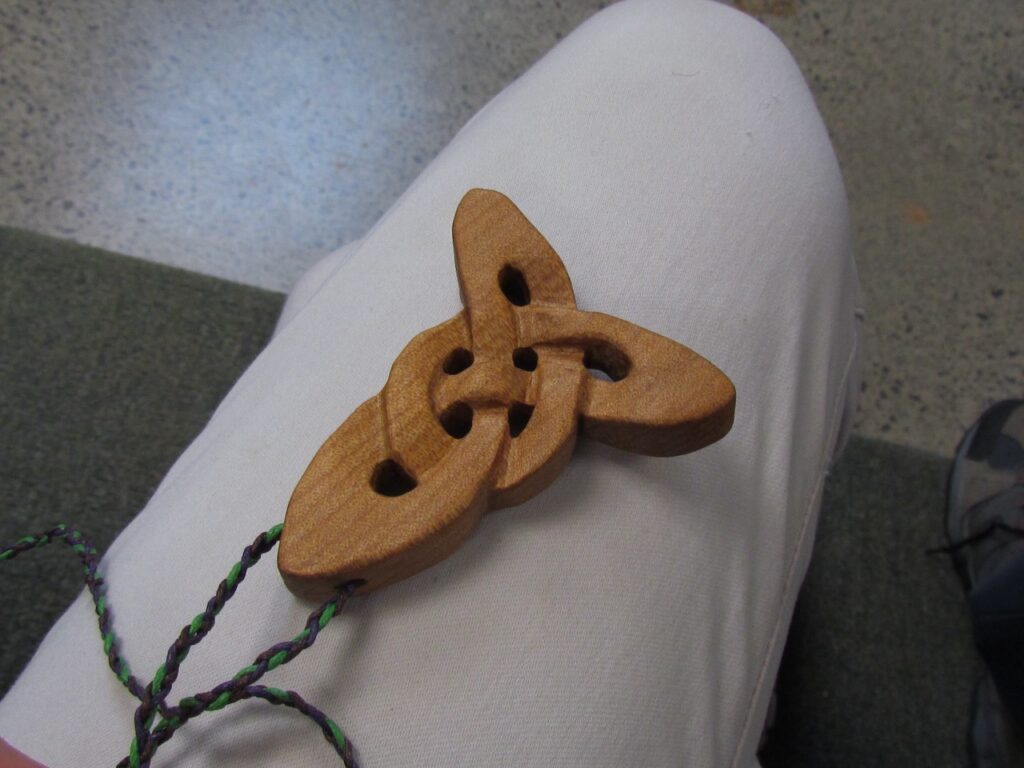 Janet is very focused on marketing – identify your market – find your market – make things that your chosen market wants. Targeting the 'sustainable brigade' – the modern day hippy – the environmentally aware greenies – the people who only buy NZ Made and natural products. Most bracelets sell for $40 – $50 and when made from NZ wood they are particularly sought after.
Plain glass beads can be decorated with acrylic paint, wooden pieces can be decorated with pyrography, carved, bored and daubed with paint. Shells are often threaded amongst other items.
An extra fine scribing pen was passed around members. This is used for tracing artwork onto items to be decorated. The clearer the traced print the easier it is to pyrography.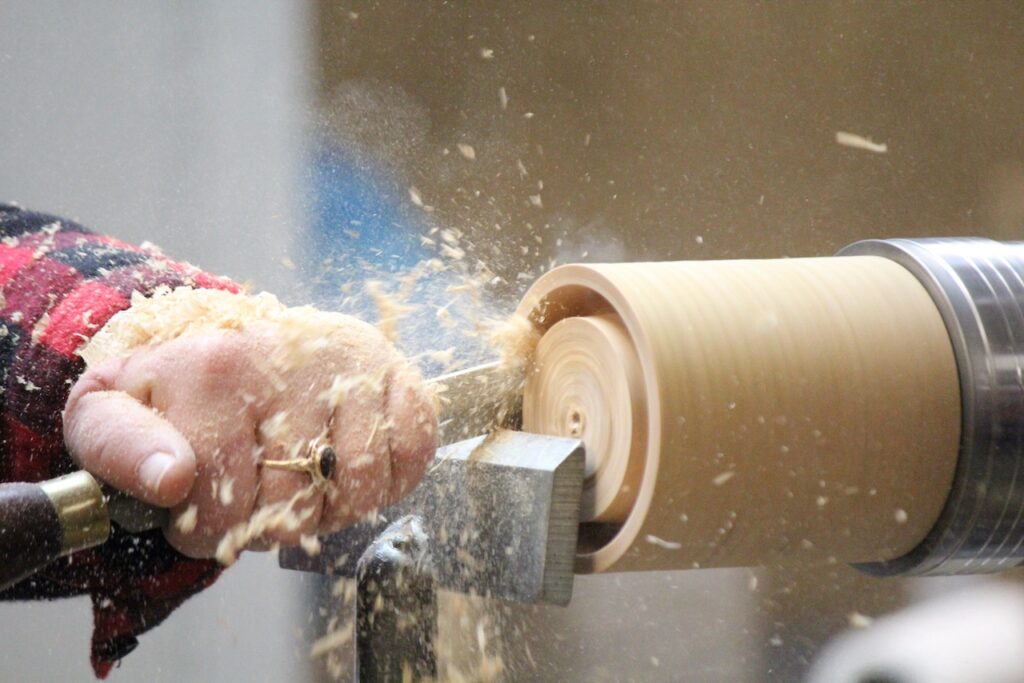 Mounted on the lathe was a pre-prepared cylinder of wood (preferably hard wood)– about 100mm depending on the size of the bangle you are turning. This must be able to slip over the persons' hand but not fall off under normal activities. Janet's 'go to' chisel is the parting tool and the majority of this work is done with this tool. The tool is driven into the end grain after allowing the desired width of the bangle. Cut leaving no ridges on the bangle side as this will be the inside (nearest skin) and can be difficult to hand sand if too many ridges are left. When the desired width is achieved the bangle is parted off.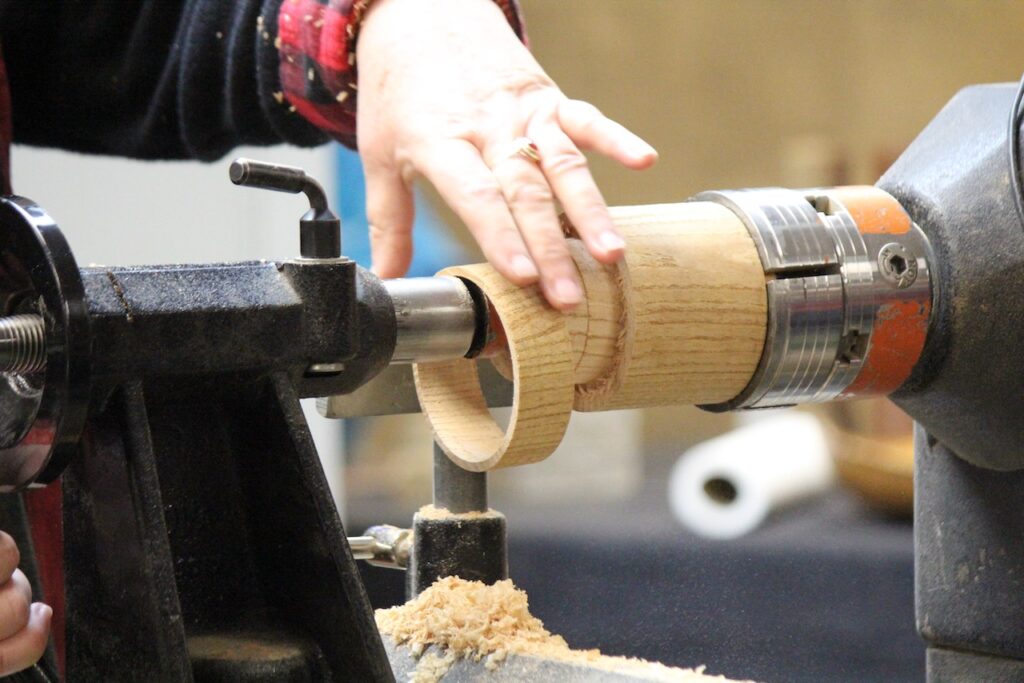 This piece can then be cut into about 7 parts which make the curved disks used for bracelets. Discussion arose over various methods of simplifying the project, more especially avoiding breakout when 2mm holes are drilled for attaching the 1mm thread to the disks. The solution to this was to drill the holes prior to turning the initial bangle, strapping the pieces with tape prior to drilling, and varieties of ideas. Janet handed around about 20 different examples of her work and challenged everyone to try their hand at making jewellery.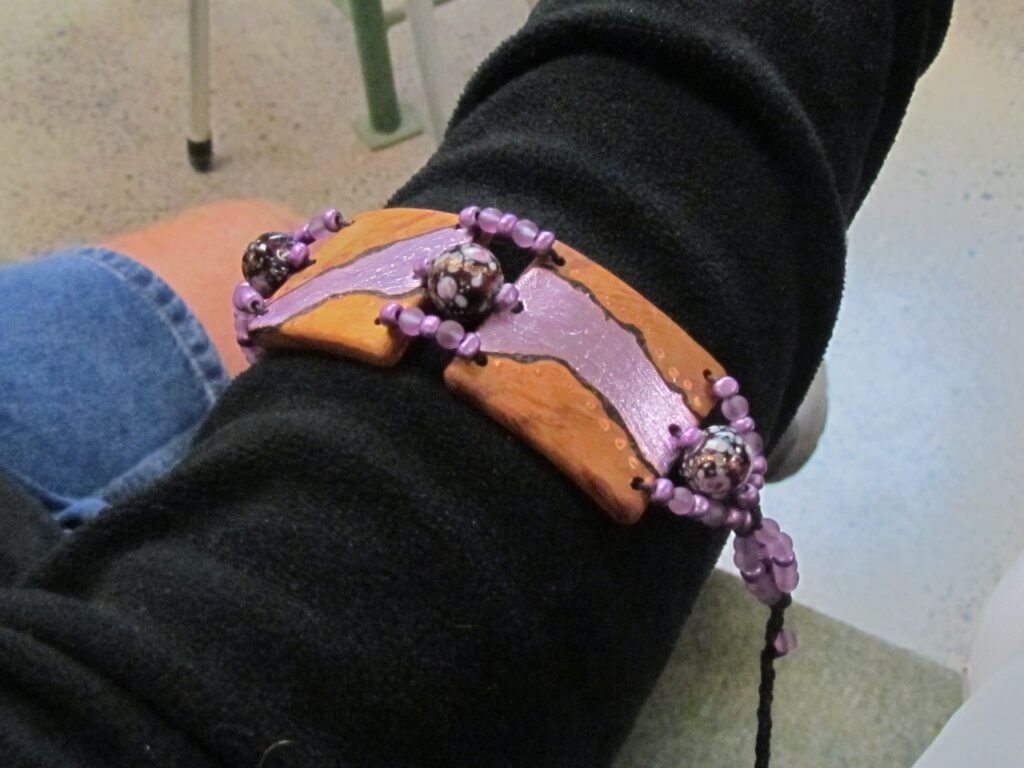 Finally, we were introduced to the 'tree of life' – engraved on pieces of branch, large round disks, in fact anything at all, and decorated with carving, pyrography, highlighted with copper powder, gold leaf etc. Kauri pendants carved to compliment an attached sea shell would get you another $5. This was a good return on a free sea shell!!
Overall this was a very interesting and well prepared demonstration. We left with no doubts that there were no limits to woodturning, no limits to one's imagination, and that establishing and targeting a market was all part of the craft.