Club Meeting: 21 Oct 2020
Report by John Young
Bob was kind enough to do this kids toy demo on short notice, due to our emergence from our second Covid 19 lockdown.
He brought along a story stick, which is a helpful template with the dimensions of the final cracker and a plan of how to go about it. Very helpful if you're needing to make multiple copies with the same dimensions. (Ian reminded him it would be useful to use on occasion.)
He started with a long piece of wood, 50×50 wide by 250mm long. Found the centres on both ends and fitted it between centres.
Using a spindle roughing gouge, followed by a skew chisel, he rounded it into a rough cylinder.
Spigots of 48mm wide by 8mm deep, were made on both ends.
Using the story stick, he carried over the markings onto the cylinder. V-shaped incisions were made on either side to define the cracker handles.
A groove was cut in the middle.
The cylinder was remounted in a 50mm scroll chuck with the tail stock brought up. A thin parting chisel was used to cut most of the way through the middle. A handsaw was used to cut through the remainder.
The cut was tidied up with a spindle gouge before being drilled out with a forstner bit.
The outside ends of the cracker, and one of the insides were drilled out with a 38mm forstner bit.
Drilled to a depth of 40mm.
The inside of the last cracker was drilled out with a smaller 32mm forstner bit so as to fit inside.
When remounting either end back on the lathe, a piece of rubber can be used to protect the wood.
The insides can either be rounded with a spindle gouge, or Dick suggested using a spade bit, with the edges ground back 45 degrees.
Lastly, the male piece must be carefully trimmed so it fits inside the female piece. The aim as Bob said "is to get a satisfying pop".
Once the cracker fits together firmly and snugly, the tail stock is brought up to support the entire cracker. Here you can tidy up the outside, so it is flush. It can now be sanded and textured however you prefer.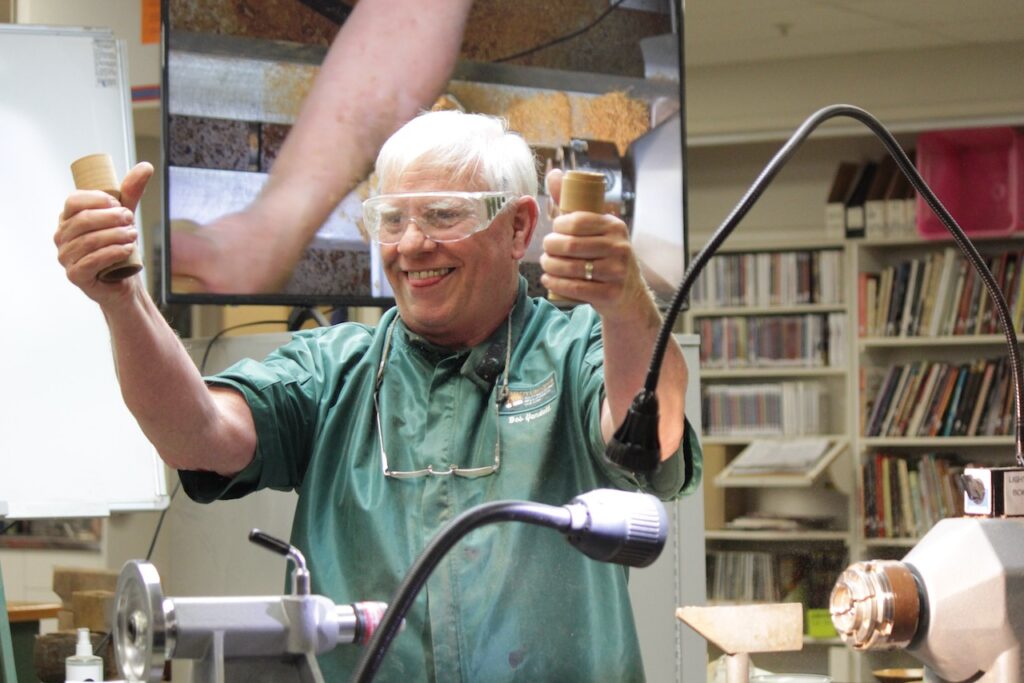 Bob, being the kind soul he is, promised to donate the finished item to the blind foundation.
Thanks to Bob for another entertaining demo!