Club Evening;     24th June 2015
Report by:  John Smart
Graeme showed some of his work on these Egg Cups with hats on.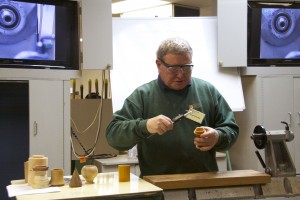 He started with some of his thoughts & work on this subject as there are many options; Pointed versions ex Richard Raffan, Round & full bodied ex Grey Lynn.  Stories regarding Runny Eggs with lips to hold the juices.  Ice Cream look-a-likes all made from different timbers. He makes all of his from all forms of wood like Tasmanian Blackwood which after use ends up with a good gloss plus all other types of supplies coming from the firewood bin and ever looked at wood locker.
His next subject was PENCILS 3 years ago he purchased 3 dozen Pink carpenters pencils and since then has never found one where he stores them he of course blames the Nombessssss.
We then got to the nitty gritty what size egg do we use and that required more discussion.  It ended up as a size 7 egg you will find all the dimensions in our projects file EGG CUP.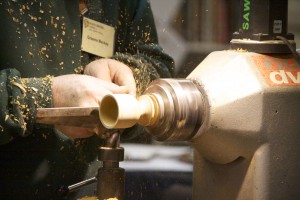 Graeme created a entertaining evening and showed the skills he has plus a lot of technical advise that he uses which we can all adapt where necessary ourselves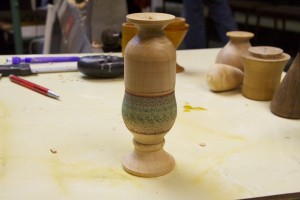 Projects File; Egg Cup
Thanks Graeme
John Smart