Club Meeting 27th Nov 2019
Report by Bill Alden
Ian used the project sheet on our website. Which can be downloaded and printed at https://sawg.org.nz/sawg/wp-content/uploads/2011/09/Christmas-Tree-Snowman.pdf.
He started with some 40X40mm softwood 70 mm long and rounded it to 30mm. The drawing on the project sheet is a slightly smaller scale but can be used as a guide to mark where the hat, head, scarf and the rest of the body lines go. He then made v cuts on these marks and proceeded to shape the parts as per the diagram. A minimal amount of sanding is all that is required as the item will be painted.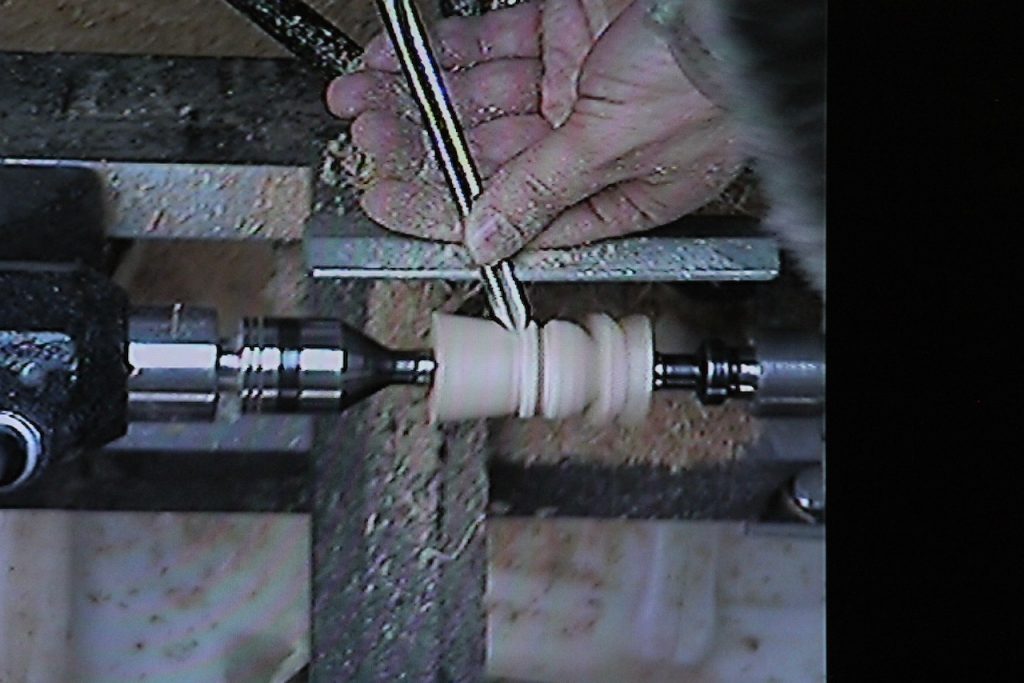 Next he turned the nose from 10 mm dowel inserted into a 25 mm long nosed chuck to the shape of a carrot approx. 10 mm long.
The dowel was pulled further out from the chuck and the scarf ends were then turned to the shape on the drawing again about 10 mm long. This piece when parted off was then split with a Stanley knife. The flat side may need to be sanded flat.
The rest of the dowel was used to make 2 arms approx. 20 mm long shaping a hand and when complete sand a flat to adhere to the sides of the snowman. The top of the hat and the base can be sanded on a mandrel attached to the lathe, use a chuck for the bigger ones and a Jacobs chuck with a mandrel for the smaller pieces
Next comes the painting and miraculously a white snowman appeared. Ian suggested using Gesso which is an Acrylic Primer, and is quick drying and formulated to take ordinary artists acrylic paints.
Colour of hat gloves and scarf is up to you but the colour ways on the plan look good. The plan suggests hot melt glue for assembly.
Ian then prepared another blank and used a 5mm offset at the hat end and a 10 mm offset at the base. This allowed him to turn a hat at a raked angle. It was however decided that slightly less of an offset and allowing more length to the piece would make the job easier.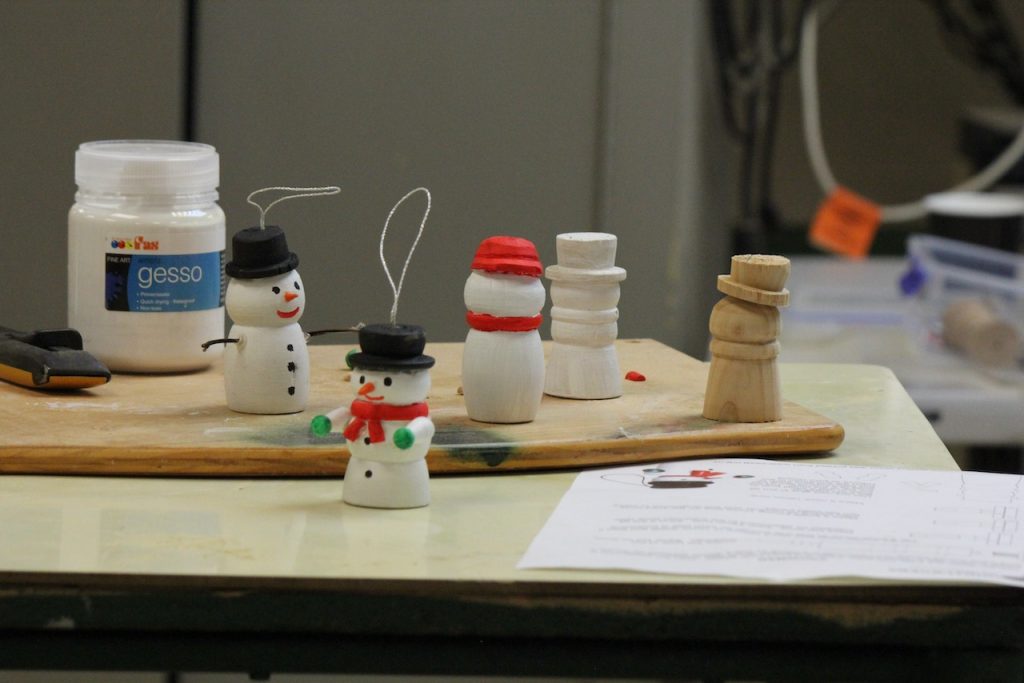 The body parts were then turned as before after the blank was re-centred. He then showed us some other variations including one with a cap instead of a top hat.